HDFC Tax Saver
---
HDFC Tax Saver Fund is an open ended Equity Linked Saving Scheme with lock in period of 3 years is in action since March 31, 1996.
An Individual / HUF is entitled to deduction from gross total income for Investments in Equity linked saving scheme (ELSS) up to Rs. 1.5 Lakhs (along with other prescribed investments) under Section 80C of the Income Tax Act, 1961.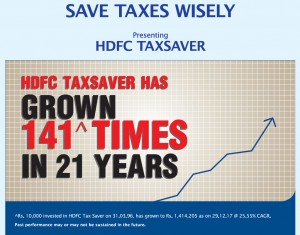 This scheme is suitable for investors seeking:-
Growth of capital over long term.
Investment Predominantly in Equity and Equity related instruments.
Fund Manager:- Vinay Kulkarni.
Minimum Application Amount:- Rs. 500 and in multiple of Rs. 500 thereafter.
Benchmark index:- Nifty 500 Index.
No Transaction Charges on any Investment Amount.
To Invest
---
Application Form can be downloaded via Application Form HDFC Tax Saver Fund
Cheque will be drawn in favor of  HDFC Tax Saver Fund.
You Can Also INVEST ONLINE
To Download KYC Forms Click Here
Application Forms can be sent at Your nearest CAMS Location
For More Information Call 9315120004, Or Whatsapp your query @ 9896155783.
Mutual Fund Investments are Subject To Market Risks Please read Offer Documents before Making Investments.
---